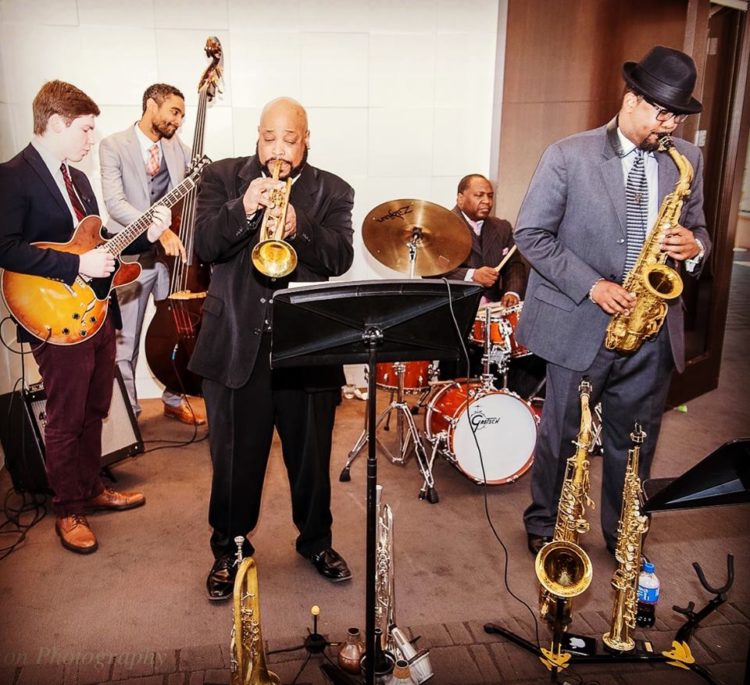 Lionel Dean Lyles II was born in Boulder, Colorado to Marjorie Hill-Lyles and Lionel Lyles. When he was 2 years old, his family moved to Baltimore, Md. There he found his passion. Music. Throughout his childhood Lionel excelled in Music. While in middle school he was exposed to Charlie Parker. Along with classic Motown recordings and Bird, Lionel started developing an ear for Bebop and Rhythm & Blues. This fire that was lit carried over into High School were he picked up various instruments. Such as Clarinet, Flute, Piano, and Trombone. Upon graduating from high school, Lionel was awarded the Semper Fi Outstanding Musician award from the United States Marine Corp.
In 1995 Lionel graduated from High School. He choose Morgan State University as his institute of higher learning where he majored in Music Education. While at the university he participated in the wind ensemble, jazz ensemble, marching band, pep band, and jazz combo. These were the critical years for developing his love for music. It was in 2000 when he and a few of his colleagues decided they wanted more hands on experience in the jazz medium and started playing out in public. This would be paramount in the cultivation and promulgation of The Lionel Lyles Quintet. Lionel graduated from Morgan State University in 2002.
In 2006 The Lionel Lyles Quintet was presented the opportunity to record its first studio project entitled "The Lionel Lyles Quintet: The September Sessions". This project was special because it is dedicated to the city of Baltimore, Md. For the next four years the quintet would travel up and down the east coast and reach as far west as California to perform. In the early months of 2008 the quintet participated in the inaugural Chic Webb Jazz Combo competition at the cities yearly art festival, Artscape. Although the band did not win, a new direction was realized for not only the band but for Lionel. It was during this time that Lionel decided that he needed to further his education even more. He choose to enroll in North Carolina Central University in the August of 2008. There he started studying with national jazz icons such as Branford Marsalis and Joey Calderazzo. On staff as Director of Jazz Studies is Dr. Ira Wiggins, and Brian Horton. Both of whom are over the saxophone studio at the university. During his tenure at NCCU, he had the opportunity to meet and work with Antonio Parker, Dalfeyo Marsalis, Jimmy Heath, Roy Hargrove, Wynton Marsalis, and Vincent Gardner. The University Big Band had the opportunity to travel to the Newport Jazz Festival to join Branford Marsalis in his special musical performance which was recorded live for NPR music. After a grueling three years period in grad school, Lionel graduated in 2011.
For the next two years Lionel would continue to further develop his sound and writing skills. Working with Royal Caribbean International Cruises a mini European Tour afforded Lionel to travel to Europe. Many new tunes would be experimented on while traveling.
In 2014 The band was able to finally record its long awaited sophomore studio project entitled, "The Lionel Lyles Quintet: At The Precipice". The project has been met with positive reviews. You can check it out at www.LLQmusic.com. Lionel also joined the Recording Academy in 2014. This organization has opened many doors through music Industry networking.
Recently between 2015-2016 Lionel has enjoyed a lot of accolades and achievements. In 2015 he won a "Jazzy" for the Best Tenor Saxophonist in Washington, D.C. Later in 2016 Lionel won "best performing artist" across all genres in Washington, D.C. and best new Jazz Artist in Washington, D.C. All awards and postings were given by the Washington City Paper.
Throughout the Lionel Lyles Quintet's 14 year existence, the group has seen many faces. Such great musicians as Craig Alston, Anthony "Blue" Jenkins, Dan Marcellus, Mark Prince, Theljon Allen, Joel Mills, Joel Holmes, Freddie Dunn, Oscar Passley, Michael Fitzhugh, Theous Jones, Romier Mendez, Percy White, Todd Simon, Darent Polk, James Johnson, and Brandon Moultrie. The band has entertained many stages in Maryland, Washington, D.C., Virginia, North Carolina, Florida, New York, Philadelphia, Louisiana, and California. Be on the lookout for The Lionel Lyles Quintet
(LLQ) coming to a stage near you! "Jazz, Everything Else Is Just Details!"